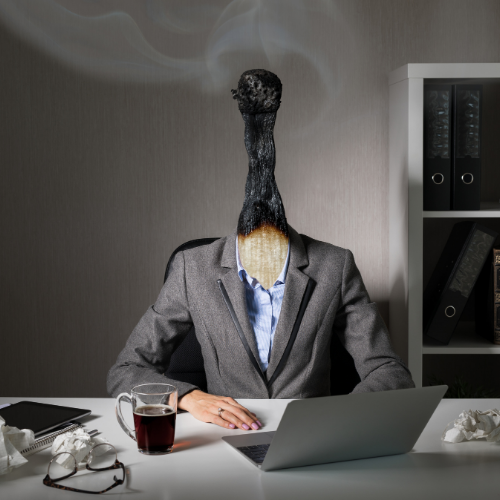 3 Ways to Overcome Burnout in the Virtual Setting
by JT Taylor 10/14/2020
So, you had a bad week. Most of your students struggled to log on to virtual school on time. Many of your parents are frustrated and emailing you because they feel they need more assistance to help their children. You feel completely overwhelmed and under-supported. You often find yourself fluctuating between stress and disappointment, but you really want to end this "seesaw" of emotional highs and lows. Where do you start?
1. Pause and Be Still for a Moment
First and foremost, take a deep breath and sit still for a moment. Everything in your life may seem as if it is moving at the speed of light. It is ok to close your eyes, take a few deep breaths, and sit still for a couple of seconds. Understand that your feelings are justified. You are teaching in the middle of a pandemic. No one has experienced what you are currently going through. Be patient with yourself, your colleagues, administrators, and the families that you are supporting. Everyone is trying to get acclimated to this new virtual normal. Frustration is an inevitable part of the process, and everyone is wrestling with it. Students, parents, administrators, and educators across the nation understand what you are going through. You are not by yourself. So, PAUSE. Take a deep breath and affirm this phrase:
"Everything is going to be ok."
2. Reflect on Your WHY
Secondly, please take a moment to remind yourself of your original purpose. Why did you enter the field of education? Why did you decide to become a teacher or an administrator? Most likely, your original intent was simple: "You wanted to make a difference in the lives of kids." That's it. You wanted to help children reach for their potential. Well, you still have an opportunity to live in and fulfill your original purpose. The path may have changed, but the goal remains the same. Therefore, you must stay narrowly focused on making a difference for kids, even if it means teaching on virtual platforms. Keep persevering! Even if it means talking to kids via computer screens or recording videos, creating bitmoji's, and utilizing Zoom for almost everything. Don't give up! If you have to Zoom, I encourage you to "Zoom with a Purpose!" More than ever, kids are still relying on you to be aware of your WHY because the energy you bring to the learning space is contagious. Keep your WHY, front and center!

3. Engage in Gratitude Journaling
You may have taken a moment to pause and breathe deeply. You may have started the process of reflecting on the reason you entered the field of education. Now, you need a practical strategy to help you engage in the intentional process of changing your mind. Here's my suggestion: WRITE! If you have never used a journal in your life, now is the perfect time to try something new. Let's be honest; what do you have to lose? You are in the middle of a completely new experience anyway. You are teaching on a new platform, engaging students with new pedagogical approaches, and attending school meetings in an entirely new way. Everything is new! So, you might as well try a new strategy that may help you cope with the frustrations that have been overwhelming you. It only takes five minutes to engage in gratitude journaling, but the rewards could change your perspective and help you overcome educator burnout. According to Allen (2018), "A handful of studies suggest that more grateful people may be healthier. "He asserts that grateful people are more likely to be happy and less likely to suffer from stress-induced burnout (Allen, 2018). Maybe starting each day by writing about what you are grateful for can help you overcome burnout in the virtual setting.

Try for about two weeks and see if you feel any better. If it helps you, keep it up! I would love to hear your thoughts! Thanks for checking in with me at Purpose Pushers Academy. Remember, "Today's a better day to be better than yesterday, so make it a great day." #OnPurpose
Source:
Allen, S. (2018). The Science of Gratitude. Conshohocken, PA: John Templeton Foundation.
Deepening Your Learning
Amy Morin (2014) "7 Scientifically Proven Benefits of Gratitude That Will Motivate You to Give Thanks Year-Round." https://www.forbes.com/sites/amymorin/2014/11/23/7...